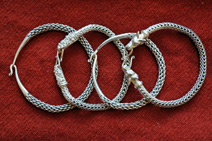 BRACELETS
In this section you will find a selection of bracelts which can be worn by both men and women. At this present moment all the bracelets are only available in sterling silver
( grade 925 or higher ). All the wire and twisted bracelts are hand made.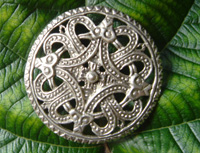 BROOCHES
Here, I put together a little collection of different brooches, all of the designs are based on archeological finds from Scandinavia, dated back to 10th / 11th century.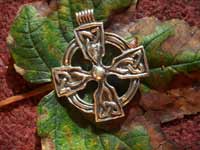 PENDANTS
A very big gallery containing a vast collection of pendants both in silver and bronze. The section includes such archeological finds like Moesgard Mask, Hedeby, York and Danish National Museum.
RINGS
Some of the rings are adjustable, in that they are split at the back. If you send your ring size, they can be adjusted to fit. Rings are usualy only available in silver but it is possible to produce some pieces in bronze or gold by arrangement.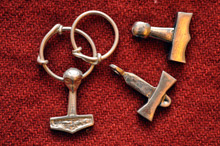 THOR'S HAMMERS
The amount of Thor's hammers finds is almost infinite. From Iceland to Russia, York to Eastern Europe, and a few other weird places, not to mention one or two own designs. It's a collection of bronze and silver pieces, different designs and sizes to suit everone's taste.
Thor's hammers were worn by viking warriors for protection and success in battles. These days viking enthusiasts still believe in the power of the hammer and it's ability to bring you good luck and protection.
A silver ring can be added to any of the hammers ( £5 additional cost ).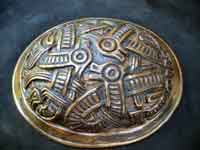 WOMEN'S EQUIPMENT
See also Custom section.
Note: All prices are subject to change and will be confirmed at the time of an order/enquiry.