BRACELETS
In this section you will find a selection of bracelts which can be worn by both men and women. At this present moment all the bracelets are only available in

sterling silver ( grade 925 or higher ). All the wire and twisted bracelts are hand made.
Note: All prices are subject to change and will be confirmed at the time of an order/enquiry.

WIRE BRACELET
Silver wire bracelet with Gokstad-type heads. Length approx. 21cm.
Price: £ 165 (Small) Cat. no BRA001
Price: £ 175 (Large) Cat. no BRA001a


SOLID BRACELET
Solid silver bracelet with dragon heads.
Price: £ 170 Cat. no BRA003

TWISTED WIRE VIKING BRACELET
Silver only.
Price: £ 155 (small) Cat. no BRA013
Price: £ 1165 (large) Cat. no BRA013a

GOKSTAD HEAD BRACELET
Solid silver bracelet with Gokstad heads.
Price: £ 170 Cat. no BRA010

DRAGON HEADS BRACELET
Silver wire bracelet with dragon heads.
Length approx. 20cm.
Price: £165 Cat. no BRA002
TWISTED BRACELET
Solid twisted silver bracelets with Gokstad-type heads.
Price: £175 Cat. no BRA004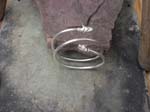 DRAGON HEAD ARM RING
To fit lower or upper arm. If you have very big arms, you need to specify the size in centimeters for a custom order.
Only in silver.
Standard price: £ 230 Cat. no BRA005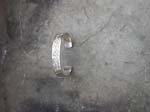 JELLING DRAGON BRACELET
Only in silver.
Price: £ 140 Cat. no BRA006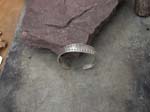 PATTERNED VIKING BRACELET
Only in silver.
Price: £ 170 Cat. no BRA007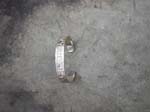 VIKING RUNIC "STRENGTH" BRACELET
Only in silver.
Price: £ 140 Cat. no BRA008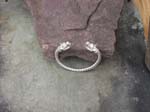 VIKING TWISTED DRAGON HEAD BRACELET
Silver only.
Price: £ 157 Cat. no BRA009

VIKING RUNE "STRENGTH" SET
Bracelet and ring set.
Silver only.
Price: £ 165 Cat. no BRA012




JELLING SET
Bracelet and ring set.
Silver only.
Price: £ 165 Cat. no BRA011