In Custom section, from time to time you will find unusual items such as items that were custom made,

sometimes they can be repeated; things picked up around the world that may or may not be one-offs.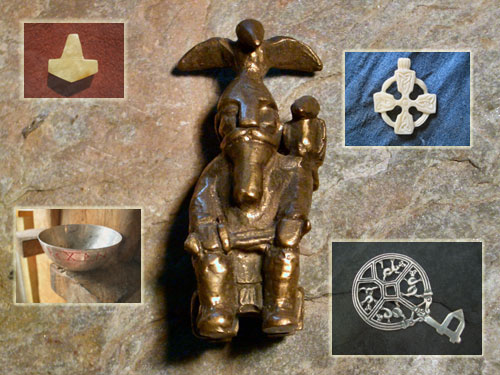 Items can be produced to order but it must be remembered that the cost is higher and delivery time is longer.
Note: All prices are subject to change and will be confirmed at the time of an order/enquiry.

LANTERN
Viking or early medieval lantern.
Hand made in Europe with wood and raw hide.
Height: 27cm
Diameter: 15.5cm
Price: £ 75 Cat. no LAN001
Alternative view



FOLDING SCALES
Found in burials throughout the Viking area. This copy is based on the 9th century archaeological find from Lithuania. Two half-spheres
hanging off a chain fitted onto a folded balance arm were used by traders. After folding, all of the components fit perfectly into the ball shell. The scales are made of brass. Diameter of the shell is approx. 8cm. All pieces are hand made and hand beaten (not spinnings).
Price: £ 200 Cat. no SCA001



RAVEN FASTENER
Found in Russia, Sweden and other locations. Based on archaeological finds from 10th century.
Price: £ 33 (silver - each) Cat. no RAVS001
Price: £ 17 ( bronze - each ) Cat. no RAVB001

COMPLETE MAGYAR BELT
Price: from £ 390 Cat. no BLT001
Email for details

Belt plates detail



MAGYAR BELT PLATES
Hungarian belt plates. 9th-10th century. 20mm square.
Price: £ 10 (silver/each) Cat.no BPS001
Price: £ 7 (bronze/each) Cat. no BPB001


MAGYAR BELT END
Hungarian Magyar belt end. 9th-10th century (belt plate not included)
Price: £ 99 (silver) Cat. no HUN001
Price: £ 28 (bronze) Cat. no HUN002


LATE NORMAN HELMET FITTING
Price: £ 55 Cat. no HEL001

For detail click HERE

LATE VIKING HELMET FITTINGS
Bronze only.
Price: £ 100 Cat. no HEL002

For detail click HERE

ODIN
Odin was a king of Viking gods. Odin is represented by a bearded man with one eye, usually portrayed with two ravens. Own design.
Hight approx. 5 cm. Only in bronze.
Price: £ 23 Cat. no ODI001




THOR
Thor was another Viking god, son of Odin. Thor is a god of warriors, he's supposed to protect them and bring them victory in battle. He's always presented with his Hammer, Molnir. This figure shows Thor sitting down, holding his bear which changes into his Hammer. Own design. Height approx. 5 cm. Only in bronze.
Price: £ 23 Cat. no THO001

NORMAN SPURS
Only in bronze.
Price: £ 67 (pair) Cat. no SPU001



GOKSTAD
Silver chain with Gokstad style head. Own design based on Icelandic find. The chain is 5 mm thick and approx. 58 cm long ( long version );
short version is approx. 50 cm long. There may be a difference of 5mm to 15mm in lenght of chains as they are hand made. Only in sterling silver. Long version: Price - £ 390 Cat. no CHL001
Short version: Price - £ 310 Cat. no CHS001 ( short version closes with a silver 'S' clip )

DRAGON HEADS
Dragon cross with dragon heads. Own design based on Icelandic find. The chain is 5 mm thick and approx. 58 cm long ( long version );
short version is approx. 50 cm long. There may be a difference of 5mm to 15mm in lenght of chains as they are hand made. Only in sterling silver.
Long version: Price - £ 390 Cat. no CHL002 £ 120
Short version :Price - £ 310 Cat. no CHS002 ( short version closes with a silver 'S' clip )

GOKSTAD
Silver chain with Gokstad style heads.
Price: £ 390 Cat. no CHL003



GOKSTAD
Icelandic Thor's Hammer, Gokstad heads on chain
Silver only.
Price: £ 390 Cat. no CHL004




SKANE THOR'S HAMMER ON A SILVER CHAIN
Silver only.
Price: £ 390 Cat. no THC001
CUSTOM CHAIN COLLECTION
We can put on our range onto either GOKSTAD or Dragon head chains, email us what you want to do so we can quote you. We can even fit your own pieces if you send them to us.
Sample picture price: £ 390

BALTIC TYPE CLOAK PIN
Over 10cm diameter.
Only in silver.
Price: £ 365 Cat. no CPS001

BOSSED IRISH STYLE CLOAK PIN
Length approx. 12cm.
Only in silver.
Price: £ 365 Cat. no CPS005

PAGAN CLOAK PIN
Only in silver.
Price: £ 365 Cat. no CPS002


BRAMBLE TYPE PENANULAR CLOAK PIN
Copy of a Huge Viking cloak pin from Skaill bay in Orkney. Engraved dragon design on one side of each terminal and raised bramble.
Only in silver.
Price: £ 365 Cat. no CPS004




SMALL CLOTHING PENANULAR FASTENER
Approx. 25mm diameter.
Only in silver.
Price: £ 33 Cat. no CPS003



GOTLAND TYPE SILVER DRINKING CUP
Silver only.
Price: £ 390 Cat. no CUP001
Gold plating inside extra £ 20 (Cat. no CUP002)


PIRATES OF THE CARIBBEAN COIN (remastered)
Medallion as supplied for the movie, available only while stocks last.
Price: £ 130 (silver) Cat. no COI003
Price: £ 38 (brass) Cat. no COI001
Price: £ 60 (brass, gold-plated) Cat. no COI002


HIGH CHURCH SAXON CROSS
Price: £ 155 (silver) Cat. no SAX002
Price: £ 50 (brass) Cat. no SAX001
Price: £ 75 (brass, gold-plated) Cat. no SAX003

SILVER RING HANGER
It can be attached to any piece (including your own) at the price of £25.
Only in silver.
Diameter: approx. 25mm