FITTINGS
In this section you will find different kind of fittings i.e. belt fittings, scabbard fittings.
They are copies of viking period archeological finds from all over the world unless stated differently.

They are made of either silver or bronze.
Note: All prices are subject to change and will be confirmed at the time of an order/enquiry.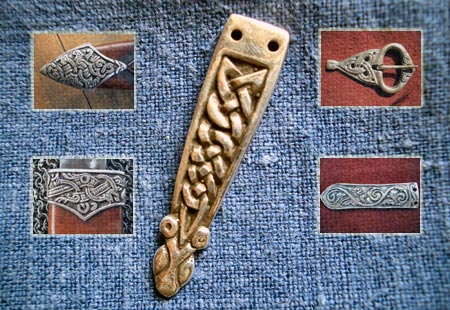 JELLING DRAGON BELT BUCKLE
Silver belt buckle, jelling style, 10th century. Own design. Large size; will fit a belt of 40mm width.
Price: £ 46 (silver) Cat. no BBS001
Price: £ 23 (bronze)Cat. no BBB001

JELLING DRAGON BELT BUCKLE
Belt buckle, medium size to fit a belt of 35mm width. Jelling style, own design.
Price: £ 52 (silver) Cat. no BBS002
Price: £ 23 (bronze) Cat. no BBB002

BORRE STYLE BUCKLE
To fit a belt of 20mm.
Price: £ 39 (silver) Cat. no BBS006
Price: £ 23 (bronze) Cat. no BBB006

DRAGON HEAD BUCKLE
To fit a belt of 20mm.
Price: £ 39 (silver) Cat. no BBS007
Price: £ 23 (bronze) Cat. no BBB007




ANGLO - SCANDINAVIAN BUCKLE
To fit 40mm belt.
Price: £ 60 (silver) Cat. no BBS008
Price: £ 20 (bronze) Cat. no BBB008

BIRKA BUCKLE
Price: £ 51 (silver) Cat. no BBS010
Price: £ 22 (bronze) Cat. no BBB010



BIRKA BUCKLE AND STRAP END SET
Price: £ 85 (silver) Cat. no SET001
Price: £ 42 (bronze) Cat. no SET002

JORVIK BUCKLE AND STRAP END SET

Price: £ 85 (silver) Cat. no SET003


JORVIK BELT BUCKLE
To fit 15-20mm belt
Price: £ 45 (silver) Cat. no BBS009
Price: £ 23 (bronze) Cat. no BBB009

SMALL BELT BUCKLE
English bronze belt buckle, small size to fit 20mm belt.
Only in bronze.
Price: £ 18 Cat. no BBB003

MEDIUM BELT BUCKLE
A Norman bronze belt buckle. Medium size to fit a 25mm belt.
Only in bronze.
Price: £ 23 Cat. no BBB004

BELT BUCKLE
Belt buckle, own design (Alban Depper) to fit 30mm belt.
Only in bronze.
Price: £ 28 Cat. no BBB005

STRAP END
Eastern European. 9th / 10th century. Based on an archaeological find. To fit 25mm belt.
Length approx. 11cm.
Price: £ 90 (silver) Cat. no SES001
Price: £ 28 (bronze) Cat. no SEB001


9th / 10th CENTURY SLAV BELT STRAP END
Bronze only.
Price: £ 28 Cat. no SEB015



STRAP END
Eastern European. Based on a Chech find, 8th century. To fit a 25mm belt.
Length approx. 9cm.
Price: £ 90 (silver) Cat. no SES002
Price: £ 28 (bronze) Cat. no SEB002


LARGE BORRE STRAP END
Borre style to fit 25mm belt. Oversized version based on original Norwegian 10th century style.
Length approx. 10cm.
Price: £ 105 (silver) Cat. no SES003
Price: £ 28 (bronze) Cat. no SEB003



SLAVIC STRAP END
Based on an archaeological find (8th century) from Chech. To fit a 25mm belt.
Length approx. 10cm.
Price: £ 79 (silver) Cat. no SES004
Price: £ 28 (bronze) Cat. no SEB004



SMALL BORRE STRAP END
Silver strap end. Borre style, original size.
Approx. 10mm wide.
Price: £ 33 (silver) Cat. no SES005
Price: £ 20 (bronze) Cat. no SEB005



WINCHESTER LEAF DESIGN STRAP END
Aprrox. 50mm long, 25mm wide.
Price: £ 39 (silver) Cat. no SES008
Price: £ 20 (bronze) Cat. no SEB009

JELLING DRAGON STRAP END
Own design in Jelling Dragon style by Alban Depper.
Approx. 9cm long, 20mm wide.
Price: £ 90 (silver) Cat. no SES009
Price: £ 28 (bronze) Cat. no SEB010




JORVIK BELT END
20mm wide, 40mm long
Price: £ 42 (silver) Cat. no SES010
Price: £ 20 (bronze) Cat.no SEB011

EASTERN EUROPEAN BELT END
Magyar. 9th/10th century.
Price: £ 35 (silver each) Cat. no SES014
Price: £ 18 (bronze each) Cat. no SEB15

ANGLO-SCANDINAVIAN BELT END
Approx. 10cm long, 25mm wide
Price: £ 105 (silver) Cat. SES011
Price: £ 28 (bronze) Cat. no SEB012


STRAP END
9th Slavic strap end. To fit 25mm belt. Length: 10cm.
Price: £ 28 (bronze) Cat. no SEB006
Price: £ 90 (silver) cat. no SES006

9th CENTURY JORVIK BELT STRAP END
Price: £ 75 (silver) Cat. no SES013
Price: £ 39 (bronze) Cat. no SEB014



HORSE HARNESS STRAP END
Strap End. Slavic, 9th/ 10th century.
Approx. 5cm long.
Only in bronze.
Price: £ 23 Cat. no SEB007



BIRKA BELT STRAP END
Price: £ 42 (silver) Cat. no SES0012
Price: £ 23 (bronze) Cat. no SEB013

MAGYAR STRAP END
Magyar, Chech find, 8th century.
Length approx. 10cm.
Price: £ 105 (silver) Cat. no SES007
Price: £ 28 (bronze) Cat. no SEB008



MAGYAR BELT PLATES
Belt squares. Magyar, 8th century, based on a Chech find.
28mm square.
Price: £ 19 (silver - each) Cat. no BSS001
Price: £ 11 (bronze - each) Cat. no BSB001



EASTERN EUROPEAN BELT PLATE WITH SWIVLE

Price: £ 95 (silver) Cat.no BPS001
Price: £ 45 (bronze) Cat. no BPS002

EASTERN EUROPEAN BELT SWIVEL PLATE
Magyar or Slav belt swivel mount plate with dragon design. 9th / 10th century.
Price: £ 35 (silver) Cat. no EES001
Price: £ 18 (bronze) Cat. no EEB001

SCABBARD MOUTH
Jelling style scabbard mouth. Own design (Alban Depper). To fit 2inch blade, curved or straight cross guard.
Price: £ 105 (silver) Cat. no SMB001
Price: £ 28 (bronze)Cat. no SMB003
CURVED SCABBARD MOUTH
Jelling style scabbard mouth. Own design (Alban Depper). To fit 2 inch blade, curved or straight cross guard.
Price: £ 105 (silver) Cat. no SMB003
Price: £ 28 (bronze) Cat. no SMB004


SCABBARD MOUTH
Swedish find, 9th century. Made to fit curved cross guard.
Only in bronze.
Price: £ 31 Cat. no SMB002

CHAPE
Jelling style bronze chape, based on a 10th century find.
Price: £ 28 (bronze) Cat. no SBB001
Price: £ 109 (silver) Cat. no SBB002

JELLING DRAGON SCABBARD SLIDE
Price: £ 72 (silver) Cat. no SSS001
Price: £ 28 (bronze) Cat. no SSB001



SCRAMASAX BELT MOUNTS
Jelling Dragon style, 10th century. Own design .
Price: £ 25 / each Cat. no SBM001
Price: £ 45 / pair Cat. no SBM002


SABER FITTINGS
11th / 12th Century Saber fittings
Price: £ 110 (steel) Cat. no SAB001
Price: £ 67 (bronze) Cat. no SAB002