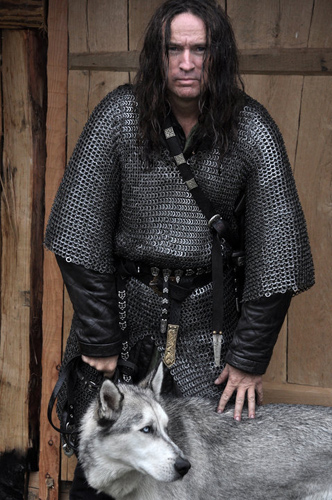 Welcome to the Viking Jewellry - Viking Arms and Armour website!
We cater for the Film Industry, Re-enactment and LARP scenes. Although we carry a large number
of weapons and armour in steel, we can provide weapons, armour and equipment in other materials.
For instance, when supplying for film/television and the LARP scene, we offer products in modern materials such as aluminium, on request basis.
Our silver and bronze products reflect a large range of Viking-age historical styles like Ringrrike, Urnes, Borre and Jelling Dragon. Unlike many other sites, we manufacture the majority of our products;
and the remaining items are manufactured under license, exclusively for us. Our authentic ranges are made correctly and with attention to materials used.
Viking Jewellry.com offers armour and weapons including Paul Binns swords and VikingJewellry.com exclusive Viking helmets and armour. Our range has been put together to help anyone with an interest in the Viking Age.
If you are looking for an archaeological copy or a piece of equipment or Jewellry inspired by Viking Age
(Saxon, Roman, Classical and Medieval, too) we hope you find what you're looking for here.
If we don't have what you're looking for, please don't hesitate to contact us. Custom pieces and equipment
can be made to order (check our Custom section). Almost anything can be made or found,
it's just the question of time and the budget available.
I have spent 25 years as a recreational modern-day Viking. I travel extensively – visiting, taking part in and organizing international Viking events all over the world. I'm involved with the world's largest international Viking Age organization, The Brotherhood of Jomsborg headed by The Jomsvikings.

I have a professional and personal interest in close quarter combat and train every week with rebated steel weapons. I train in Fight School; Western style and Huscarl. I am also a qualified SCA combatant. Aside from my interest as a Viking enthusiast, I'm a professional Production Designer and Fight Director. In this capacity,
I take pride in researching and producing specialized and detailed props.
I strive to locate, produce or obtain under licence from other artists items for this site so that provides
a broad and useful range. Most of the site product is permanently IN STOCK!